With so many of us shut in our houses staring out of the windows, there could hardly be a better time for keeping an eye on the bird-feeders and looking out for unusual visitors. If anyone has spotted anything in the way of wildlife that you'd like to pass on, just contact me via nextdoor, or email me at lesmorss@carlops.net. (Tell me if you'd prefer to be anonymous)
Key: LM Les and Kate Morss (Elphinstone) PR Peter and Wendy Raine (RogersRigg) JN Jill Noble (Windy Gowl Farm) RB Rosemary Brown (Allan Ramsay Hotel) MC Mary Clare (Carlops), CT Catriona Taylor (Carlops), JL Jeremy Leathart
29th March: LM British Summer Time already though today it doesn't really feel like it. However, the birds in the garden have been busily gathering  nest material and there are clear signs of spring. The birds have been generally quite active. A reed bunting has taken up a residence on our lawn and is sometimes accompanied by up to three others. We've never seen one in our garden before, although Peter and Wendy Raine reported seeing them at Rogers Rigg some weeks ago. We've also had a wren having not seen one in the garden for many years. There have also been greenfinches and goldfinches occasionally. Flocks of meadow pipits are back in the fields. Meanwhile Jill at Windygowl is reporting woodpeckers, a flock of goldfinches, some bramblings along with the chaffinches, a solitary long-tailed tit, a tree creeper and a pair of nuthatches. Jill has also seen a pair of stonechats and has had a pair of mistle thrushes singing in the highest trees
8th – 9th January: LM One or perhaps two Song Thrushes in our hawthorn this morning, feeding on the berries. A large thrush has been seen in the village more than once over the last few days including at our bird water dish on 8th – I'd like to think it was a mistle but probably a song thrush. [Actually it seems likely to have been a fieldfare]
2nd January 2021: In the chat before the Church service, Nan Buchan reported having seen an Eagle (presumably Golden) high in a tree in Silverburn. The news was that there are some 4 pairs in the Borders, with plans for another 8 pairs to be introduced.
6th December: LM Goldcrest spotted in our hawthorn bush
20th August LM: There has been a nuthatch in the garden trying to get onto the seed feeder, but perhaps intimidated by the sparrows. I gather nuthatches are quite frequent in the Carlops area, but for some reason we very seldom see them
21st July LM:Bit of excitement on Tuesday morning when after tea in bed we looked out of the bedroom window to see this sight on the lawn – a hawk, probably sparrowhawk, finishing breakfasting on a smallish bird which was probably a pigeon. Unfortunately it flew off when I tried to get a better picture, and was chased out of our rowan by a rather brave (or reckless) woodpigeon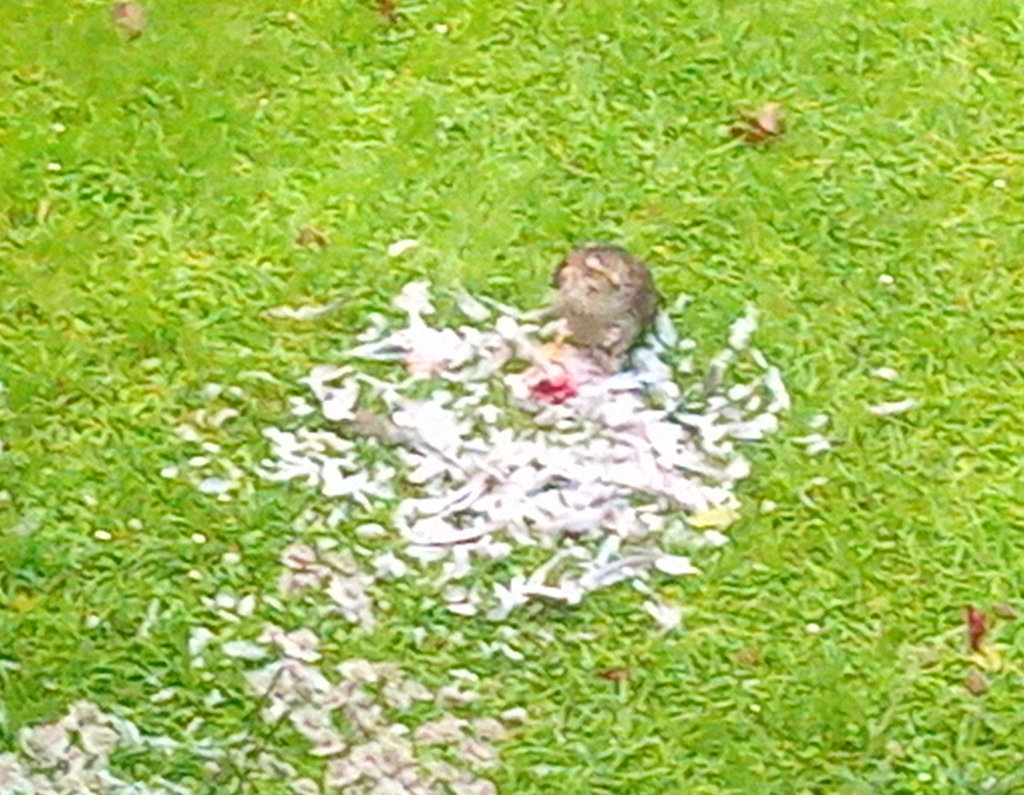 28th June: The Grey Wagtail has been spotted again around Paties Mill and the cuckoo is still being heard. JL reports that Ringlets and Chimney Sweepers are around.
The Great Spotted Woodpecker visited our fatfeeder and I managed to get a very brief video – see this link (it works better if you download it):
http://carlops.net/wp-content/uploads/2020/06/GreatSpottedWoodpecker.mp4
Up to 10th June: LM : The cuckoos seem to be amazingly active this spring. We've heard on in our garden, probably in one of the beeches, and one called the other day for some minutes from somewhere at the north end of the village. A small bird with a red forehead – either a redpoll or a linnet – appeared briefly in our garden last week. There are a number of lapwings around the North Esk near the Fairliehope Burn, although not in anything like the numbers we used to see. William Aitken told us that foxes were predating heavily on ground-nesting birds and that there are a number of fledgling Barn Owls up at the farm. Hares seem to be doing well although not very visible during the day.
28th May: LM: I replied enviously to Jeremy to the effect that I would love to hear a cuckoo; I don't think I've heard one in all the time I've lived in Carlops. Then lo and behold, a clear cuckoo call from the woods around North Esk Cottage. On the same walk, skylarks, a curlew, a lapwing, buzzard and pipits. And yesterday, clear as anything, a hare sitting up in the wet patch on the W. side of the A702 near the A766 junction close to Ninemileburn
26th May: a message from JL: Just to record hearing a cuckoo close to the A702/Macbiehill Rd junction – first time I've heard one for many years in this area!
We used to have Tree Creepers in abundance at Carpet Farm. I've not seen any for at least a year and wonder if the Nuthatches, which have similar habits, have pushed them out?
Wrens are finally back!..I think the beast from the east in 2019 must have had a bad effect on them.
7th May: PR reports A cuckoo cuckoo'ed loudly but briefly somewhere very near our steading last evening – that's never happened before. A few partridges were running about.
3rd May: LM reports: Kate and I took a walk up over Patieshill and down by Fairliehope. Canada Geese and the resident Blackheaded Gulls at the reservoir; then at the junction of the Fairliehope Burn and the North Esk there seemed to be dozens of house martins and swallows, and best of all a glorious flash of bright yellow from a pair of Grey Wagtails in the Fairliehope Burn. Skylarks heard and seen over Paties Hill.
2nd May: CT reports: We saw a wheatear near Stoneypath, a greenfinch and Great tits in the garden today.
1st May: LM: A wren in the garden today. I think they are fairly common in Carlops but we seldom see them at Elphinstone
18th April: PR confirm sightings of the sand martins in the silica quarry at Kitleyknowe, a collared dove in Kitleyknowe and in Carlops, a tree creeper in Newhall and a nuthatch in Amazondean.
13th April: MC reports at least half a dozen sand martins at the Lanelybield sand quarry
13th April: LM A greenfinch on the fat feeder. Pair of collared doves in the garden recently. House sparrows mating in the privet hedge
8th April JN:
6th April LM – Blackcap (female or juvenile) on fat feeder
4th April: PR saw two bullfinches at Rogersrigg on 1st April and a pair of reed buntings some days previously
4th April: RB saw two bullfinches on the hedge at the Kitleyknowe turning.
2nd April: JN at Windy Gowl farm sent a message. "I have the 'usuals' plus a few not so usual like tree sparrows (as well as house sparrows and dunnocks), a pair of nuthatches which were a first up here last year, lesser redpolls and siskins although the siskins have moved on a bit, greenfinch seems to be back after trichomonosis wiped them out a few years ago, one magpie…, pied wagtails, a few bramblings in amidst the chaffinches, kestrels seem to be about again and we have nesting barn owls again at last after they were wiped out in the snow in 2010."
30th March: LM Elphinstone : In addition to the usual garden birds – blue, great and cole tits, house sparrows, robins, dunnock, blackbirds, chaffinches and wood pigeons – we have also seen small parties of long-tailed tits on the feeder. A pair of starlings has been on the fat feeder. We recently saw a nuthatch on our hawthorn – a first for us though I believe they are in the neighbourhood. Goldfinches fairly infrequent at the moment. And as if on cue, various corvids have appeared – magpies, jackdaws and a crow.